Home >> Gold Prospecting Vacations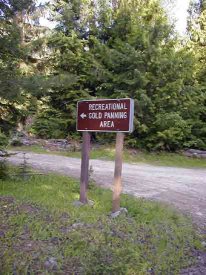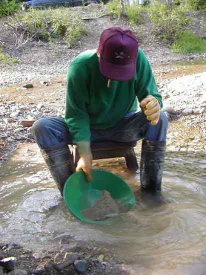 There are many places around the United States where you can search for gold! Not only is it a fun family activity, but who knows...just maybe you may be the one to make the next big gold find!
Arizona Stanton
120 acres at an old ghost town with several buildings dating from the 1870's. Full-time caretaker; hook-ups for water & electricity. Dump station, sanitary facilities and club house. Dredging and/or highbanking along Antelope Creek. Dry-washing, coin shooting. Year-round camping for up to 200!
California Duisenberg
160 acres near Ransberg, CA. Club house, outhouse and exhibit barn. Camping for Up to 1,000! Drywashing and metal detecting.
Georgia The Loud Mine
West of Cleveland, Georgia. 39 acres. Full-time caretaker. Clubhouse, dump station. Highbanking, sluicing, panning and dredging along Town Creek.
Oregon Burnt River Camp
South of Baker, 135 acres, sanitary facilities, clubhouse and several other buildings. No hook ups, but water is available at the full-time caretaker's house. Dredging and excellent high-banking along Burnt River. The Burnt River Camp has an additional 80 acres just downstream.
Golden Slide Gold Mines
Located on North Fork Yuba River, California. Opportunities for prospecting, dredging, panning, open pit and underground.
Jensen's Pick & Shovel
Ranch PO Box 1141 Angles Camp, CA 95222 USA 1-209-736-0287 Gold panning & gold prospecting trips, groups welcome.
Finley Camp
140 acres at the site of an early mining town. (structures since torn down) Part-time staffer. Forest Service campground near. Dredging and highbanking along the Salmon River and Russian Creek. Camping for 200+.
Italian Bar
160 acres in the fabulous Mother Lode! Full-time caretaker, water, showers, club house and sanitary facilities and dump station. Camping for up to 150, open all year. Dredging (June to Oct.) and high-banking on the Stanislaus River.
Klamath River
26 patented acres. Camping for 25 but no facilities or caretaker at present. Dredging (June to Oct), highbanking and nugget shooting on old bucket-dredge tailings.
Scott River Junction (Colorado)
28 acres at the old townsite of Steelhead. No facilities or caretaker. Dredging on both the Scott and Klamath Rivers, highbanking, sluicing and coinshooting.
Leadville Camp
60 acres at one of Colorado's premiere mining areas. Panning, sluice and dredge. No facilities.
Nederland Camp
West of Boulder, 5 acres. No caretaker or facilities. Hike-in access only. Lode mining for silver with some gold.
The Cave Creek Property
32 acres on Cave Creek just a short distance from the Burnt River Camp. This slender parcel takes in about a mile of Cave Creek providing members with plenty of Hunting ground. This property is good for Panning, Sluicing, highbanking and Dredging. Camping is available at the Burnt River Camp.
South Carolina Oconee Camp
Located north of Walhalla, S.C. 120 acres of pristine wooded land with year round stream. Flake, Fine Gold, and nuggets are found here. You can dredge, sluice and pan. No facilities.
North Carolina Vein Mountain
130 acres located in one of the richest gold bearing areas of the eastern gold belt. Gold ranges from fine to flake and is plentiful. Historical reports give the property a good potential for large nuggets.
Roaring Camp
PO Box 278 Pine Grove, CA 95665 USA 1-209-296-4100 Pan for gold, collect rocks, visit the Wildlife & Mining Artifacts Museum, and enjoy the beautiful Mokelumne River.
Mt Creek Gold Mine
41787A Gurley Rd. New London, North Carolina USA Contact: Bill Tucker Ph: 1-704-463-7749 Mountain Creek Gold Mine is one of Central North Carolina's best kept prospecting secrets. This is the place to come if you are looking for real North Carolina gold. Nuggets are rare the largest to date 1/2 oz. but are found on occassion. Fine gold is however plentiful. Equipment rentals include dredge and highbankers or bring your own. Camping rates. Mt Creek Gold Mine is located in New London NC about 40 miles North of Charlotte. This is a place for the serious prospector. Dredging up to 5in, Highbanking, sluicing and panning. Camping is also available.
Thermal City Gold Mine
1-828-286-3016 E-Mail: jnanney@blueridge.net Located in Western North Carolina's Rutherford County. Gold Camp, mining supplies, events, camping