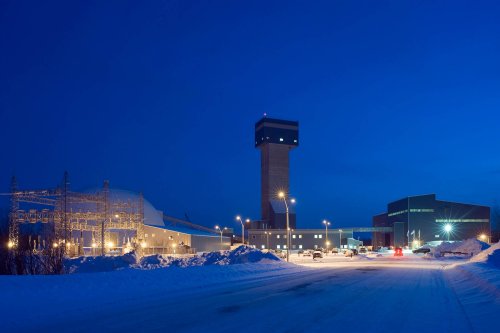 Agnico-Eagle Mines Limited is an international growth company focused on gold, with operations in Canada and advanced-stage projects and opportunities in Canada, Mexico, Finland, and the USA. Agnico-Eagle's LaRonde Mine in Quebec is Canada's largest gold deposit and is a strong foundation for international expansion.
The company explores for gold and develops gold mining operations. On the company's website, the company profile includes mining operations, corporate, financial, and investor information.
The photo above is of the Goldex property. It is located in the Abitibi region of northwestern Quebec, about 60 km east of the LaRonde mine. This underground mine began production in April 2008. Goldex has approximately 23.1 million tonnes of proven and probable reserves grading 2.2 g/t and holding more than 1.6 million ounces of gold.
In July 2005, the decision was made to begin construction of the Goldex mine. Gold production began in April 2008 and is expected to average 175,000 ounces per year at total cash costs of $230 per ounce. It is anticipated that Goldex will have a nine-year mine life. The mineralization remains open to the east and at depth.
Goldex will be a low-cost, high-tonnage operation, processing nearly 7,000 tonnes of ore per day. Because it is in the same gold camp as LaRonde, the company is able to use some of the same infrastructure and benefit from operating synergies to improve project economies. Goldex also benefits from the experience and skills Agnico-Eagle has developed in mining the deep and complex ore at LaRonde.
Construction was completed in spring 2008, at a cost of approximately $183 million.
The following link will open up in a new window: www.agnico-eagle.com